Shakaree is a pioneer in the North American Red Deer industry originating in 1990. Our farm is one of the largest Red Deer operations in the country, maintaining a breeding herd of nearly 1000 animals on 500 acres of pasture land.

Shakaree has had closed herd status since 1997 with over 5 year CWD Testing (August 2002), and TB Accredited (Herd #0002).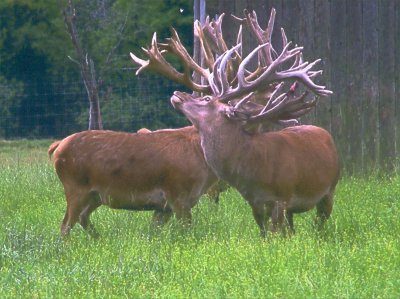 Huge Trophies
Our goal at Shakaree is to consistently produce the largest antlered
Our goal at Shakaree is to consistently produce the largest antlered Red Stags available to the farming and hunting industry. We have been achieving this goal with the importation of both semen and embryos from the world's elite Red Deer breeders, and very selective breeding on our farm.

Our quest to produce huge antlers truly began in the fall of 1994 when we introduced pure Yugoslavian, German, and English (Furzeland, Woburn, and Warnhorn) bloodlines into our herd. For the next several years, we AI'd over 200 hinds to get the combination of genetics we wanted on the ground at our farm. The results of our breeding programs are tremendous and our entire herd shows their strength.

A great example of our strong breeding program at Shakaree is the SCI scores that stags have to produce to be considered a breeder. A 2-year old stag has to be in the low 300 SCI minimum; a 3-year stag has to score nearly 400 SCI, and 4-year old stags well into the 400's SCI.

To achieve these scores, we have been keeping many of our blood lines pure, but we have also mixed and matched bloodlines to increase many of the desired antler traits. To achieve these traits, we have not overlooked the important role the hinds are playing in producing these elite trophy animals. With a strong venison market and our own hunting business, we have a large outlet for the hinds that we do not believe are strong enough for our breeding herd. This strict culling program has helped us develop a very strong nucleus of hinds and stags that we consider world class.
This year we covered our hinds with six of our 3 year-old stags. Five of these stags were from our 2008 AI program and one was a Furzeland stag. For more information, visit the Sire page.

Please view the different bloodlines we are offering for sale this season and contact us for any additional information or to place an order.

Want to know more about Red Deer Hunting? Visit MountainShadowsHunting.com